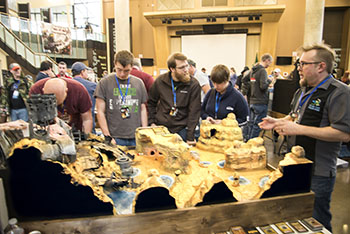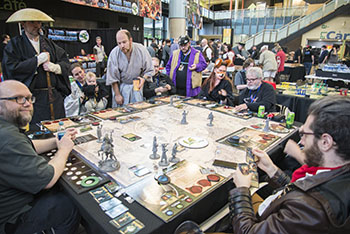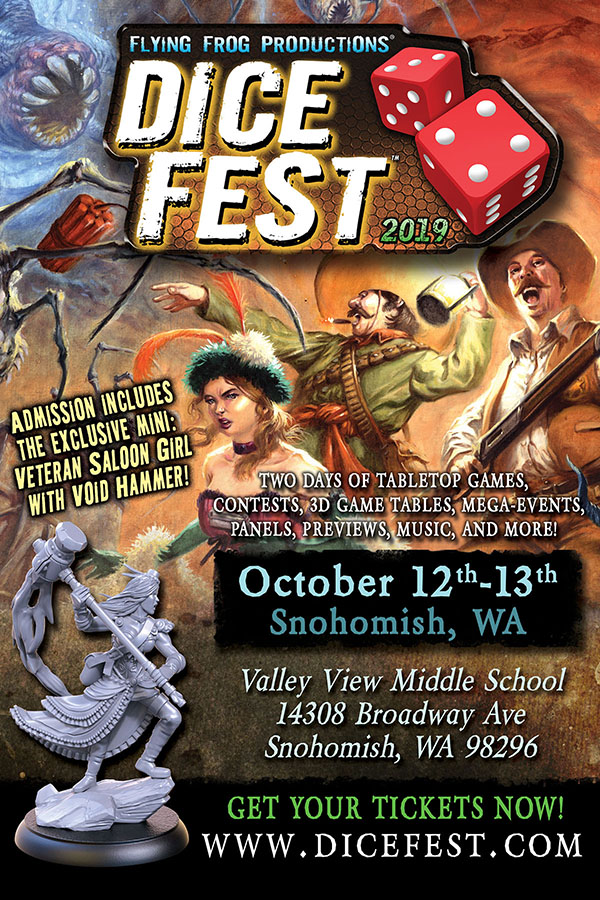 Parking
When you arrive at the Valley View Middle School in Snohomish, they have a large parking lot. If it is full, there is additional parking area near the baseball field.
Badges
If you have already purchased admission on the Web Store, you can simply pick-up your badge at the "Will Call" area in the Auditorium. Otherwise, you can purchase admission at "Registration" in the Auditorium.
Games and Events at DiceFest
There are many games and events at DiceFest. Some are "FreePlay", meaning that you can show up and join the event without signing up (this includes ALL Panels, the Keynote Events, and some Games). Most Games, Contests, and Tournaments, do require signing up in advance. Once you receive your badge at the show, you can sign-up for events throughout the weekend. We recommend looking at the schedules beforehand to get an idea of what is most interesting to you.
FFP Store
We will have a fully-loaded Flying Frog store at DiceFest, which will feature some surprise brand new items and miniatures, as well as incredible sales and specials!
Food
Our favorite barbecue place, Dickey's BBQ Pit, will be serving food at DiceFest again this year! We could not be more excited about sharing this yummy secret with our DiceFest guests! Dickey's BBQ served sandwiches, meat plates, and sides last year and the crowd really loved it!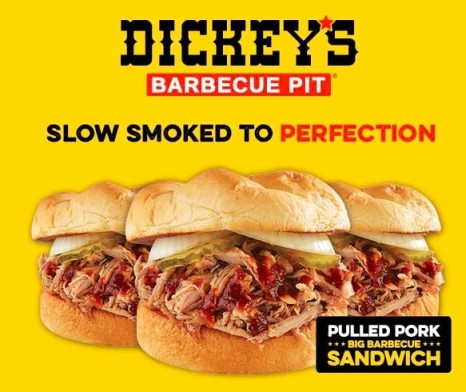 For over a decade, Flying Frog has had booths at conventions like Gen Con, PAX, Origins, and more. But, most of the time, we are introducing our games to new players and each demo or game starts at square one - introducing the theme and concepts and teaching the basic rules. DiceFest was conceived as an event for the fans of Flying Frog's games. "It's like, you already play the games, now let's take it to the next level!" Large 3D game tables with beautiful detail, bringing the games to life like never before! Huge event games like 'Trederran Trench War' where up to 16 Brimstone Heroes enter a massive labyrinth of trenches in the war-torn world of Trederra, fighting their way through the defenses, working together to shut down the Doomsday Device, but also competing for the prize stashes along the way!
There are exciting many game events at DiceFest, but there is also so much more to see and do! Throughout the two days, there are panels with topics like "The Future of Brimstone" with game creators Jason and Scott Hill or "Weapons of Brimstone" where actor, historian, and collector, Gordon Frye (who plays Nigel Harrington in Fortune and Glory and posed for the illustration of the Male Rancher in Shadows of Brimstone) shows pieces from his collection and discusses the history of Old West firearms! There are costume contests, painting contents, signings, displays of costumes, props, and original artwork that just won't happen anywhere else! Flying Frog Studio Painter, Aaron Lovejoy holds court in the Painting Area, where gamers can grab a pre-primed Brimstone mini and sit down at the 'Paint n' Take' tables, stocked with paints and brushes, to hone their painting skills and get tips from the master! Throughout the event, Aaron runs several 'Behind the Brush' Panels with topics like "Airbrushing Basics" or "All about that Base - Basing your minis". There is truly something for everyone!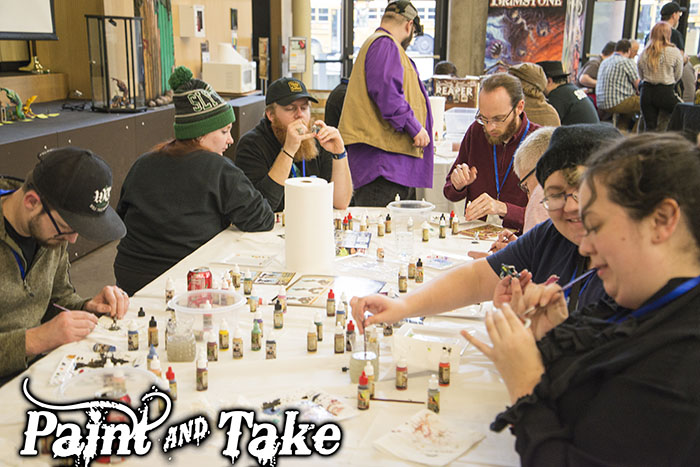 We put together the first DiceFest in 2017 and serious fans traveled from far and wide to take part - it became a bit of a party! People who had seen each others' posts in forums for years were suddenly face-to-face and at times, it was like a reunion. "Our main goal with DiceFest is to entertain every attendee from the moment they arrive, to the moment they leave!" Flying Frog Music Director, Mary Beth Magallanes leads the charge for a concert on DiceFest Saturday night - first performing soundtrack songs and then joining other Flying Frog notables for a rock concert of classic cover songs. "That part is really interactive because we'll pull fans and other Flying Frog folks up on stage for a song!"
DiceFest is two action-packed days of your favorite Flying Frog games, but played with exclusive new scenarios, huge 3D gaming tables, and mega events designed by the creators of the games. The barriers are gone, fans of the game hang out and play games with all of the creative people behind the games and everyone has a blast!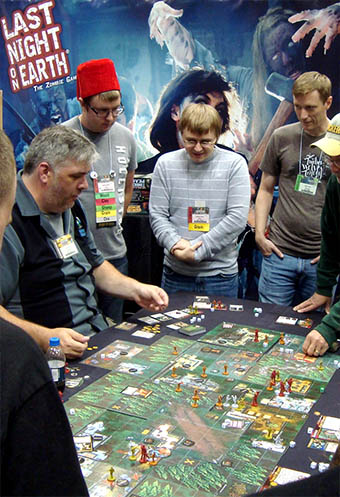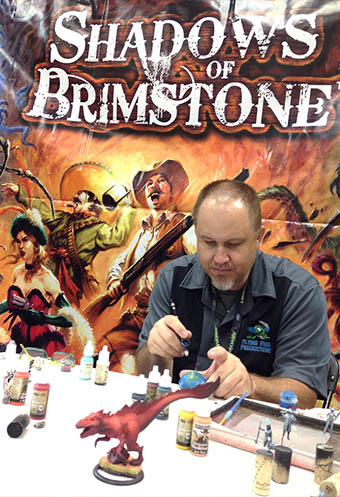 We would love to have you join us for DiceFest 2019. We have put together an overview of what to expect at the show. We will continue to add more details as we schedule the events and contests. This is still subject to change, but here is a list of the highlights...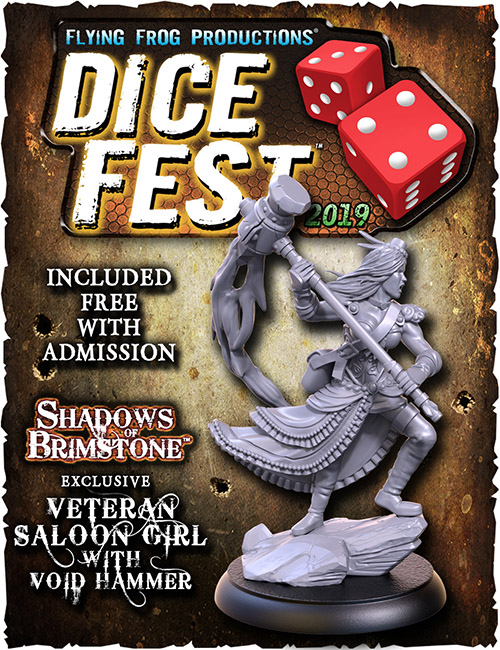 Highlights of DiceFest 2019:
Each registration ticket includes the DiceFest Goody Bag, filled with Promos and the 2019 DiceFest exclusive game miniature: The Veteran Saloon Girl with Void Hammer - made specifically for DiceFest!
Unique Event Games throughout the weekend - Flying Frog's designers have created thematic and exciting scenarios for your favorite Flying Frog games! Plus, special games like GIANT FORTUNE AND GLORY, GIANT CONQUEST OF PLANET EARTH, and GIANT A TOUCH OF EVIL!
3D Game Tables - Epic 3D terrain and incredible detail for some game events allow players to immerse themselves in the world of Flying Frog like never before!
Live Concert (7:30PM Sat 10/12) - Mary Beth Magallanes and friends will perform select songs from the game soundtracks. Then, Mary Beth will join forces with other Flying Frogs to end Saturday night with a bang - performing rock and pop hits!
Behind the Brush Sessions - Flying Frog's Studio Painter Aaron Lovejoy reveals his techniques and tips in interactive sessions.
Costume and Prop Showcase - Check out props and costumes from Flying Frog games!
Presentation of a sneak peek of upcoming products - Be the first to get the scoop of what's next for Flying Frog!
Painting Contest 2019 (Sat 10/12) - Step up to the challenge, enter your figures into several different categories, prizes awarded.
FFP Costume Contest 2019 (6PM Sat 10/12) - We had some amazing costumes last year at DiceFest with winners taking home prizes and glory for their hard work and creativity. This year, we look forward to seeing a new batch of creative costumes! Several categories rewarding theme, creativity, and accuracy to game detail!
Speed Painting Competition 3PM Sat 10/12) - This is a new, one-of-a-kind event at DiceFest! Up to 9 painters can compete for prizes, facing off against each other and Pro-Painter Aaron Lovejoy in this fast-paced, hilarious, ridiculous battle of the brushes! Never fear, Aaron will be painting with oven mitts on! This is not your typical speed painting challenge - hurdles are thrown at you every few minutes. Whether you're accepting the challenge or just watching the spectacle, you won't want to miss it!
Meet the creators and illustrators behind your favorite Flying Frog games!
Dice Fest Preview sales of upcoming items - Limited quantities of future products that you can purchase early at the show.
Flying Frog's Infamous Dinged and Dented Sale - Only at Dice Fest - Snap up some truly amazing deals on games, expansions, and miniatures with light damage and a heavily-discounted price tag!